What is a ViewModel?
By Carlos Ble on 2015-06-21
aida, DDD
A ViewModel is one of the three parts that comprises the MVVM (Model View View-Model). This pattern is a variation of the Presentation Model (M. Fowler). In the Presentation Model, as opposed to Passive View, the "controller" doesn't hold any reference to the view - and it isn't called "controller" but "Presentation Model". The View is […]
---
DTO vs Domain Models – Part II
By Carlos Ble on 2015-06-21
aida, Clean code, DDD, Software Development
As we learn more about the business and the domain we are taking the time to improve the design of the software. The first handful of features have been deployed into production, now it's a good time to measure, gather more feedback and redesign. In Par I, we exposed some of the difficulties we were […]
---
Cómo Crear Un Bundle Symfony2
By Colaboraciones on 2015-06-22
Éste artículo es una colaboración de Alejandro Blanco, Director de desarrollo en smsup.es
En este articulo vamos a ver los pasos que he seguido para crear un bundle de symfony 2 de forma que sea redistribuible mediante composer. Este bundle servirá para facilitar la interacción con la api de smsup, desde symfony2 y poder enviar sms masivos. Es un bundle simple, pero tiene varias cosas interesantes (requiere otra librería, utiliza parámetros de configuración, etc.), y puede ser una buena introducción.
---
Refactoring Loops to Collection Pipelines
On 2015-06-23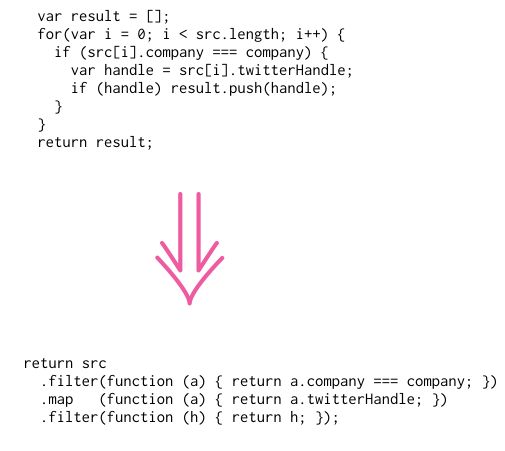 I've long been a fan of the programming pattern that I call the collection pipeline. This allows me to write computation on collections in the form of a pipeline of familiar operations (eg filter, map, reduce). More and more language environments now have the language features and collection APIs to support pipelines, but since they have been limited in use for so long, more people are familiar with loops. In this article (which I'm releasing in installments) I'll take some loops and show how I'd refactor them into collection pipelines.
---
Polymorphic Equality
By Carlos Ble on 2015-06-23
Clean code, Software Development
The default generation of Equality members provided by Resharper let you choose three different implementations when overriding the "Equals" method in a class (Alt+Insert -> Equality Members): The default choice is "Exactly the same type as 'this'" which IS NOT polymorphic. I mean, subtypes of that class will be considered not equal regardless of the […]
---
AOS 2015 Gijón
By Eduardo Ferro Aldama (noreply@blogger.com) on 2015-06-24
agilidad, apprenticeship, Desarrollo, Vida De informático
Este fin de semana pasado se ha celebrado el  AOS2015 en Gijón. El AOS (Agile Open Space) es un evento organizado por Agile Spain y reúne gran parte de la comunidad ágil nacional para compartir experiencias durante un par de días.
---
The Cloud Is Now A Thing
By tonybourke on 2015-06-24
Cloud
In the networking world, we're starting to see the term "cloud" more and more. When I teach classes, if I so much as mention the word cloud, I start to see some eyes roll. That's completely understandable, as the term cloud was such an overused buzzword, only having been recently supplanted only by "software defined". […]
---
Second installment of Refactoring Loops to Collection Pipelines
On 2015-06-25
In this second installment, I show an example of refactoring a simple nested loop.
---
Compilar Automáticamente Ficheros en LaTeX Mientras Los Modificamos
By Alejandro Alcalde (contacto@elbauldelprogramador.com) on 2015-06-25
Para los que estéis acostumbrados a escribir vuestros documentos en , sin ningún editor específico, sabréis que llega a ser un poco tedioso compilar cada vez que queremos ver el resultado. Hace poco, descubrí un comando, latexmk, que nos facilitará bastante la vida.
---
Spark Java Framework y Heroku, la pareja perfecta
By Joaquin Engelmo Moriche on 2015-06-27
java, spark, heroku
Hola amiguitos del código :)
Quiero empezar un par de pet project que tengo en mente y, puestos a aprender algo de paso, me puse a mirar "micro frameworks" para Java 8/Scala y servicios de hosting. Todos temas de rabiosa actualidad.
---